Join Our Team. Be Part of Something Special.
STOP. Throw away everything you know about the motor industry – because Peter Vardy is changing everything. And it's time you took the exciting route. The only direction we're heading is up. From 2006, we've grown from 1 to 1000 and our turnover has risen from zero to £600million. Our dealership portfolio includes some of the most famous automotive brands in the world. And we've developed our own CarStore retail concept and just launched our fast-growing ecommerce business.
But we give back. 10% of everything we make goes to support charitable projects all over the world. Our passion to do the right thing, our work ethic to innovate and give our customers, our 'guests', the ultimate customer experience, sets us apart.
And we'll give you all the support you need to succeed. We'll signpost your career every step of the way and you'll prosper from our award-winning Training Academy.
So seat belts on and enjoy the ride. We're going places – and we'd like you to join us.
Visit Our Careers Portal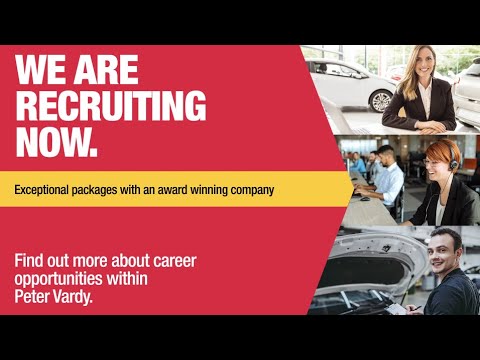 Join our Technician Team.
At Peter Vardy we value every single member of our team. You'll find unrivalled support every step of the way and your career path will be clearly signposted. With manufacturer and internal training, your career starts here.
Apply now
Join our Sales Advisor Team.
The day anyone gets a new car is one of great joy. But we want that happiness to extend to the whole guest experience – from the day someone walks into the showroom to the day you hand them the keys to their pride and joy.
Apply now
Peter Vardy Careers
We have a vast selection of roles available throughout the business and we'll give you all the support you need to succeed.
Browse Jobs
Some of the benefits
Benefit from; Share options- become a Partner, Industry leading pay package, Cycle to work scheme, Contributory pension scheme, Discounted rate on New and used cars, Amazing trips, Enhanced Maternity pay, Life assurance and Savings club.
Peter Vardy Partnership
The partnership makes every colleague in the business a shareholder within the company, meaning every partner is an owner by being actively involved in ensuring the continued success and growth of the company
Find Out More
What our partners say
Every year we survey all Peter Vardy Partners to find out what we are doing well, what we could do better and how we could improve. The survey is anonymous and helps us in our mission to be the best place to work.