Join Our Team. Be Part of Something Special.
STOP. Throw away everything you know about the motor industry – because Peter Vardy is changing everything. And it's time you took the exciting route. The only direction we're heading is up. From 2006, we've grown from 1 to 1000 and our turnover has risen from zero to £600million. Our dealership portfolio includes some of the most famous automotive brands in the world. And we've developed our own CarStore retail concept and just launched our fast-growing ecommerce business.
But we give back. 10% of everything we make goes to support charitable projects all over the world. Our passion to do the right thing, our work ethic to innovate and give our customers, our 'guests', the ultimate customer experience, sets us apart.
And we'll give you all the support you need to succeed. We'll signpost your career every step of the way and you'll prosper from our award-winning Training Academy.
So seat belts on and enjoy the ride. We're going places – and we'd like you to join us.
Visit Our Careers Portal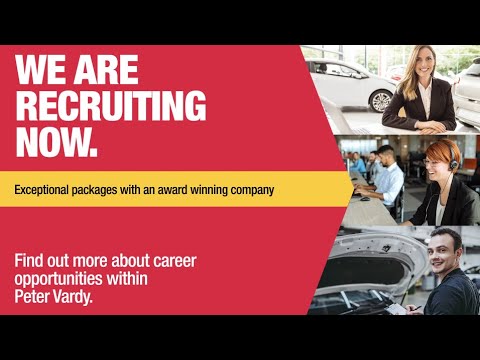 Join our Technician Team.
At Peter Vardy we value every single member of our team. You'll find unrivalled support every step of the way and your career path will be clearly signposted. With manufacturer and internal training, your career starts here.
Apply now
Join our Sales Advisor Team.
At Peter Vardy our Sales Advisors provide the whole guest experience. Your passion will build trust and ensure that customers don't just buy a car – they will buy into the Peter Vardy brand experience, time and time again. You will be trained through our award-winning academy and given all the tools to be successful and earn well.
Apply now
Peter Vardy Careers
We have a vast array of roles and careers across our business from Sales, Technician, Service & Parts, Customer Service & Administration, Marketing, Finance and Management. Through our Academy Team we will give you the support and development to succeed and achieve your goals.
Browse Jobs
Culture & Recognition
Our workstyles and characteristics are the foundations to our world class organisation and with this we have developed a thriving positive culture among our workforce. We do things like; Annual Performance Trip, Annual Ball, Family Fun Days, Angel Project & Guest Factor Week to name but a few.
What our Partners say
Every year we survey all Peter Vardy Partners to find out what we are all doing well, what we could do better and how we could improve. The survey is anonymous and helps us in our mission to be the best place to work.
Academy
Our Award-winning Academy will signpost your career every step of the way and give you the support you need to succeed. You can benefit from inhouse and Manufacturer training, Graduate Programmes and our Leadership & Development Programme.